We'll tell you how to get the most out of your blow drying routine! You know how fabulous your hair looks when you step out of your hairdresser's salon, but unfortunately,  no matter what you try to do at home, your hair just doesn't look the same. Here are some expert blow drying tips I got from my hair stylist so you can come out looking salon-gorgeous every time you step out of the house!
Get The Most Out of Your Blow Drying Routine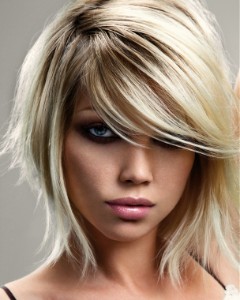 Step 1: Have the Right Tools
It's important that your blow dryer has at least two speed and heat settings. Also, make sure you have a good brush. For coarse or curly hair use a boar-bristle or synthetic nylon brush; for normal or fine hair use a ceramic brush.
Step 2: Add the Product
Before you start blow drying, you need to protect your hair from the heat you're about to blast on it. For a smooth and sleek look use an anti-frizz serum, gel or cream and spread it evenly throughout your hair. A fuller, thicker look use a lightweight leave-in conditioner on the ends and a thickening mousse for the rest of the hair. For curly hair, make sure you stay away from gels and mousses and go with creams and lotions instead.
Step 3: Separate Your Hair
This is one of the most important steps when it comes to blow drying: sectioning the hair. Start off by having some hair clips at your disposal and separating the hair into three parts: left side, right side, and back. Start off with either the left or the right side, leaving the back for last.
Step 4: Blow Dry
Using a round brush, take either the left or the right side section of your hair and start twirling it around the brush (take as much as you can). While you're pulling the brush down, concentrate the heat onto that part, making sure you're aiming the nozzle downward to prevent friziness. Do the same for all sections until you've finished.
If you like this post, don't forget to share 🙂