Making your own shampoo is one of the easiest things to do, and this homemade shampoo recipe for all hair types is no exception! We love this recipe for its simplicity, but mainly because unlike other homemade shampoos, it balance's the hair's pH, leaving the hair soft, manageable, shiny, and without any itchiness! This homemade shampoo recipe goes hand-in-hand with the "no poo" method which is basically not using shampoo!
Commercial shampoos are laden with ingredients that can actually do more damage than good – just take a look at the ingredients on the back to see for yourself. Most of these ingredients cause scalp itchiness, dry hair, and also penetrate the scalp which can lead to a slew of other (more serious) problems!
So why not make your own shampoo with all natural ingredients that actually nourishes the hair from root to tip? Oh, and did we mention how much money you can save by making your own? Talk about a win-win!
Homemade Shampoo Recipe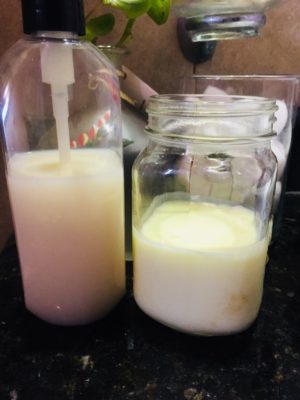 You'll Need:
1 can coconut milk
2 tbsp raw honey
1 tsp jojoba oil
1 tsp castor oil
2 tbsp apple cider vinegar
1 tsp essential oil of your choice (lavender, tea tree, rosemary, peppermint, carrot, etc..)
Directions: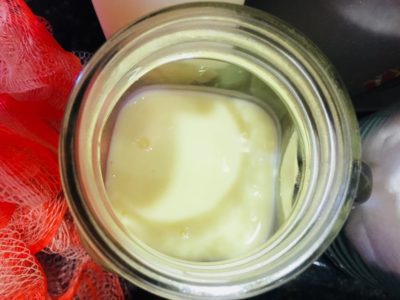 In a medium sized bowl, combine all of the ingredients above and whisk until smooth.
Pour into a clean container or empty shampoo bottle.
Some of the ingredients will separate, so be sure to shake before each use.
Massage a small amount of the shampoo onto your scalp and use your fingers or a comb to spread through your hair.
Leave on for a few minutes before rinsing off.
If you have naturally oily hair, you can rinse your hair with an apple cider vinegar hair rinse by mixing equal parts ACV with water.
Note: This shampoo will not make suds, but that doesn't mean it won't clean hair! The ingredients in this homemade shampoo recipe are all natural and will cleanse just as well (if not better) than regular shampoos. Your hair's pH will also be balances which results in healthier, softer, and shinier hair.
Benefits of Homemade Shampoo Recipe
The castor oil in this recipe is a natural hair growth ingredient which will help those who have trouble growing out their hair.
Apple cider vinegar removes buildup and adds a ton of shine to dull hair. ACV also helps balance the hair's pH. The natural pH of your scalp is around 5.5
Honey helps to cleanse the scalp and is also naturally antibacterial and antimicrobial which prevents a lot of scalp problems.
Jojoba oil helps to restore hair shine, hydrate dry hair, and encourage overall hair health.
Like this post? Share and Pin 🙂