Those that suffer from scars, know how hard it really is to eliminate them. Scars seems SO permanent and deeply embedded into the skin, that it would seem almost impossible to remove them. Thankfully, that's not the case. Removing scars IS actually possible and there are many different ways to do it. There are over the counter creams and serums and laser procedures, but the best way to get rid of scars is to use a homemade scar removing salve. It may not sound convincing, but all that is needed to remove stubborn old scars and spots is just some good old fashioned ingredients and a little bit of patience! This homemade scar removing salve WILL take some time and persistence but we swear, it will work! You should start seeing an improvement within two weeks!
Homemade Scar Removing Salve for All Skin Types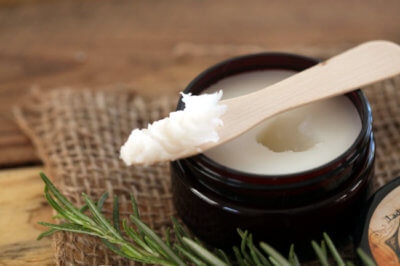 We've tried and tested this salve on many different types of scars including acne, dark spots, and even sun spots. The salve worked amazingly at fading the scars away little by little over time. Within two weeks, there was a noticeable difference, and within two months, the scars were almost completely gone. As you know, scars can get lighter in color but never really disappear!
You'll Need:
Directions:
In a sauce pan over medium heat, melt the coconut oil and shea butter.
Once melted, add the beeswax on top and stir until melted.
Stir well until all ingredients are combined and melted, and then pour in the essential oils and vitamin E oil. Stir once more.
Pour into a clean container with a lid and refrigerate for a few hours until it hardens.
This recipe will yield about 5 oz.
How to Use:
Rub the salve directly onto the scars twice a day.
You only need a little bit as it goes a long way!
Keep applying the salve once in the morning and once at night and never stop – you WILL see results!
If you like this post, don't forget to share 🙂