Want to find the perfect swimsuit for your figure? We can't all wear the same style swimsuits because unfortunately, we all have different shaped bodies. And as much as I would love to pull off some sexy, exotic swimsuits I see on the runways, I have to come to terms that I am not that tall, nor that skinny – so I have to find a swimsuit that fits my shape, not someone elses. Keep reading to see which swimsuit best suits your figure!
The Perfect Swimsuit for Your Figure
Problem #1: Small Bust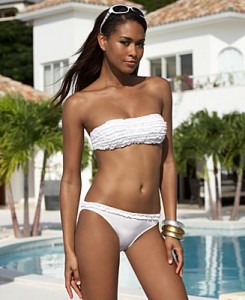 We're not all blessed with a bountiful bust, so we have to make do with whatever we have. To hide a small bust, wear swimsuits with padding (just make sure they look ok once you get wet!), ruffles to add more volume, and prints to distract from the problem area. Also, make sure the colors work in your favor too! Pair a dark bottom with a bright top to make it work.
Problem #2: Large Bust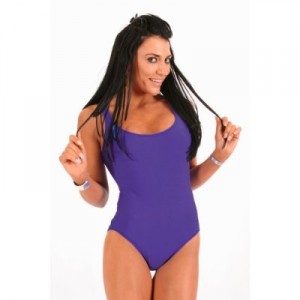 If you find that you're spilling out everywhere, you may need to rethink your swimsuit. Did you know that swimsuits actually run 2 sizes smaller than regular clothing? So with that in mind,  choose a swimsuit with a built-in bra or an underwire to avoid spillage. Stay away from bandeaus, keyhole, string bikinis and demi-bra styles.
Problem #3: Belly Bulge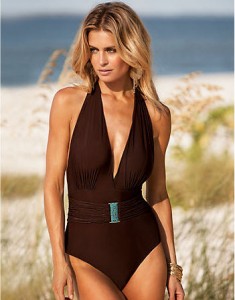 One of the most common swimsuit problems is the belly bulge. Choose a plunging-halter suit which will draw the attention away from the bulge. You can also go with something that has a pattern or some sort of detail at the mid-section to draw the eye away. You can also look for swimsuits with built-up tummy control as well as tankinis. But just stay away from the bikinis.
Problem #4: Thick Thighs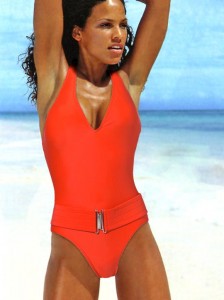 To hide thick thighs, go for swimsuits with a high cut on the leg, which will make your legs look longer and slim your thighs. Also, stay away from shorts as they actually tend to make your thighs and butt look bigger. Instead, draw the attention away with a colorful or embelished top. Also, you can mix your bikini pieces by putting the darkest on the bottom and the lighter color on top.
If you like this post, please share 🙂